Dexpel Facebook Page Got Removed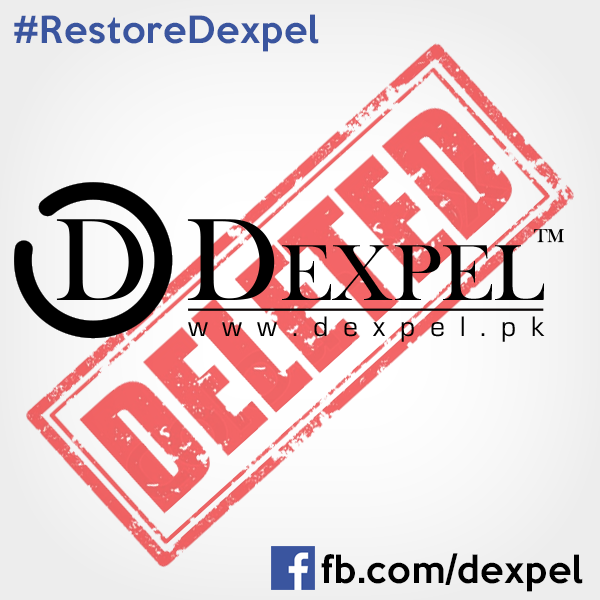 Dexpel was founded back in early 2009 when online shopping was just in its infancy in Pakistan. People were still skeptical about purchasing online and preferred the conventional way more. Cash on delivery in Pakistan was not a normal courier method and people were forced to use their credit cards online. But in Pakistan most people don't even have a bank account.
Dexpel at that time realized the vacuum in this industry and started an in-house COD team with in Lahore, along with an equipment to custom print laptop skins, mobile skins, indoor decals, shirts and much more.
Today Dexpel is a mega factory and is a fulfilment factory for more than a dozen new brands who were started by young entrepreneurs. They design their products and Dexpel is their back-end factory & order fulfilment centre. Dexpel has always been the first to innovate and bring about a new change with in the e-commerce industry of Pakistan, we were the first to launch high quality premium home decor, and then DTG Tees. Dexpel was the first online store to have its own in-house stitching and printing division. Dexpel was the first online store to have a fully featured online designer tool where customer could design their own apparel and merchandise.
We drive a lot of revenue from our official digital platforms with Facebook being the primary source. As you know that all online stores use Facebook, Instagram, Twitter, Pinterest, Snapchat and Whatsapp to market their products. They spend a lot of money into sponsoring their platforms and then maintaining them. These stores pay media buying fee and then hire agencies to make content. Recently Dexpel's page and pages of some notable e-commerce stores were taken down by Facebook without any warning. These pages had millions of fans altogether and had spent thousands of dollars into achieving that status. These pages were removed due to copyright infringement. While we 100% agree that copyright infringement should be dealt very seriously and we respect the original artist or content creators. This still does not mean that on the basis of just one post or one album Facebook has the right to remove the complete legacy of the brand. On just one mistake they can just wipe away your life's work.
On 16th March 2018 Dexpel's page posted a merchandise from WWE. This merchandise was just advertised and Dexpel aimed to cater the WWE fans with their favorite merchandise. Dexpel on its web site made it clear that these items are not original and are made in Pakistan as not all fans can buy the original merchandise from the official WWE web site. Dexpel sponsored the post and then started getting a lot of engagement for these posts.
After 24hrs we got an email from Facebook that we have removed all the 16 items of WWE as it has been reported by WWE as copyright infringement. This was absolutely acceptable as we understand that they need to protect their brand and merchandise. We immediately instructed the web team to remove the merchandise from the web site as well.
But what followed was devastating, and after 5 minutes we received an email from Facebook that your page has also been deleted.
We immediately wanted to email Facebook about this and tried to appeal the decision. But there was no such option, we tried to contact Facebook but Facebook has no such email or ticket submission area. We finally caught hold of some friends at Facebook and they guided us to some secret URLs which had appeal forms submission. We filed a complaint as follows:
Dear FB Team,
We understand the reason why our content got deleted, and we understand the importance of those rules that you work very hard to maintain. However, we were never told why the page got deleted, so we would like to explain that we are willing to change what is necessary in order to keep our page.
First thing, we are going to delete every single content that breaks any copyrights, and of course we will never upload any content like this ever again.

Regardless of what happened with the content we uploaded, we would like to say that the page has thousands of followers that enjoy high quality content day by day without any copyrights issues, and that we invest a lot to keep it that way. We are your valued business customer and have contributed a lot in terms of content and direct USD's to your revenue in the form of sponsored ads.

Again, we apologize about what happened and have learned our lesson, please let us try again in a better way and restore the page as it caters to hundreds and thousands of customers every day 
We are even ready to reimburse every dollar made on the WWE merchandise via FB PIXEL reports.
Please help us here. We strongly believe that you are here to finish all scammer, and not aspiring true entrepreneurs and brands that work day and night into maintaining their pages on your platforms.
Regards,
Dexpel
We sent over a dozen back and forth emails and every email followed that the decision cannot be overturned and that this is final.
Although the team's morale is shattered and our sales have dropped 50% we will still fight back and rebuild our community from scratch as Dexpel has a legacy of great customer support and our fans love what we do. Every day we wake up in the morning with a new energy into making something amazing for the customer, we will continue to do that. But we want to point out one major flaw in the digital world. Should we as humans give such a strength to a platform or a system who can decide overnight with a click of a button that everything that you believed in for the last 10yrs is no more. And that there is nothing you can do about it. There is no appeal there are no warnings, just a final decision which is against you. You are already guilty, and punishment has been prescribed.
We still remember when Facebook was just figuring out a revenue model in 2007 and hired Sheryl Sandberg in 2008 who then brought the concept of relying on ads for revenue, and finally in 2010 Facebook became profitable. Dexpel was the pioneer in that campaign and we recall that we were one of the first pages to have spent ad budget on getting engagement in Pakistan.
At that time there was no Daraz or Yayvo like stores and Dexpel paved the way for e-commerce media buying in Pakistan. Dexpel is the only store from the early age that is still standing tall, a lot of companies from the early era of ecommerce are nowhere to be seen in Pakistan and new ventures dominated.
We have grown through the ups and downs of the ecommerce industry and we will survive this as well. We need our customers/fans support more than ever. We have reclaimed our name back on Facebook but it has started from scratch, we would still appeal to Facebook through this article to restore and merge back our original page with our current link www.fb.com/dexpel
We will never give up on our dream, and we will keep on going forward…
#RestoreDexpel